#003: Spotlight on Ethiopian coffee
Arabica coffee originated in the East African nation, but is threatened by political upheaval, climate change and the COVID-19 pandemic
How's your day going? Have you had a coffee yet? If you haven't, go and get one, preferably Ethiopian, and return to read this newsletter which will for today, be all about Ethiopia.
As I said in the first edition of the newsletter, I want to focus as often as I can on under-represented areas of coffee culture. I feel coffee shops, roasters and consumers don't talk enough about where their coffee is coming from. Who is involved in the process? How are growers and exporters coping with the global pandemic and the effects of climate change? Are they getting a fair deal for their produce?
To begin my enquiries around these questions, I'm focusing on Ethiopia - the home of coffee. Scroll on for:
A brief look at Ethiopia's coffee industry and culture

An interview with Aster Mengesha, a coffee entrepreneur based in Addis Ababa, about her experiences and her view of the future for Ethiopian coffee

A look at how climate change could affect Ethiopia's coffee production
---
A brief look at Ethiopia's coffee culture
Arabica coffee often called Ethiopia's 'gift to the world'. Harvested from the Coffea arabica plant, it is the world's most popular type of coffee, making up around 60% of global production. While its origin is disputed by some, most authorities on the topic now agree that Arabica originated in the Southern Ethiopia. It's also thought that prior to being consumed as a drink, the Oromo people consumed 'coffee balls' formed of ground coffee beans mixed with butter.
Today, coffee's importance to Ethiopia's culture as a brewed drink is indisputable. Coffee is served in a 'ceremony' at various times throughout the day brewed in a Jabana, a type of clay kettle. This nice video below from Saveur gives an overview.
Coffee's importance to Ethiopia is arguably even more visible in its economic contribution. The graphic below shows coffee making up almost 35% of the country's exports mainly to Europe and the United States, but with emerging markets in Asia. However, Ethiopia is also unique in comparison to other coffee-producing nations in that around 50% of coffee produced is consumed within Ethiopia.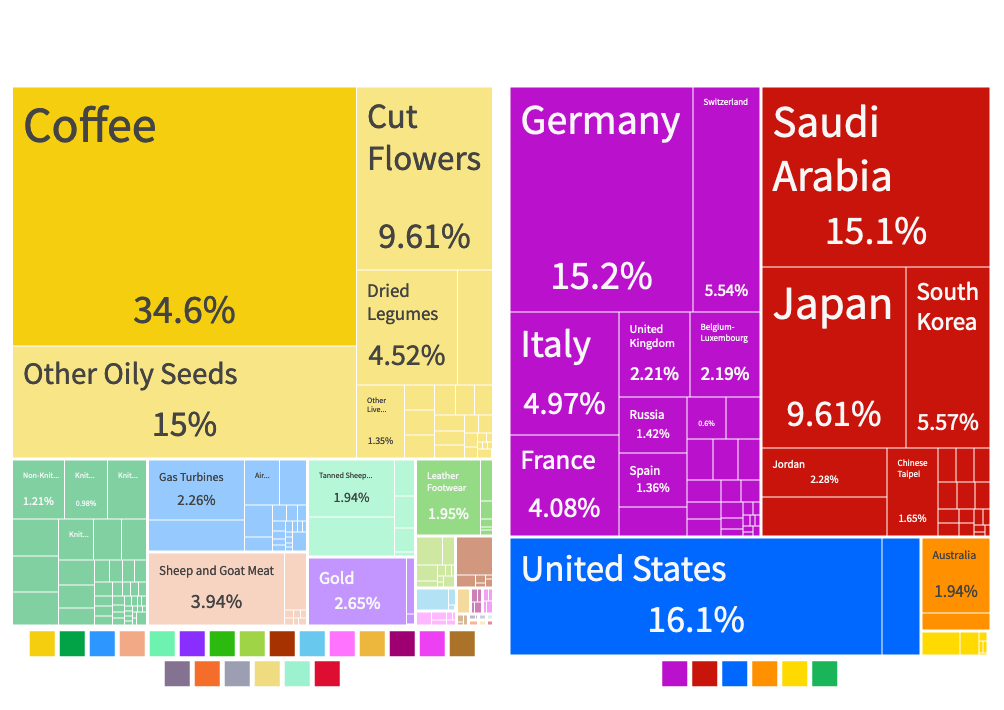 15 million Ethiopians, 16% of the population, derive their livelihoods from some part of the coffee supply chain, across 4 million smallholder farms. However, since 2019, global coffee prices have slumped and in many cases have fallen below the cost of production. Margins are cut further by the fact that Ethiopia is landlocked and produce must be transported to neighbouring countries for onward shipment.
---
In conversation with Aster Mengesha, founder of Aster Bunna
Aster Mengesha and her business are based in Addis Ababa, Ethiopia's capital city. Through my daytime job working for an NGO, I've been lucky enough to visit Addis on a few occasions. Each trip has included a stop at Aster Bunna, a coffee shop located in the central Kirkos district.
Aster founded Aster Bunna in 1998, naming it after herself and the Amharic word for coffee. This week, I had a video call with Aster in which she told me more about her business.
Outside the Aster Bunna coffee shop and roastery in Addis Ababa
---
How climate change could affect Ethiopia's coffee future
In my interview with Aster Mengesha, we briefly mentioned the impact of environmental changes on Ethiopia's coffee production. It goes without saying that climatic changes have an impact on the growth of any crop, but the extent to which Ethiopia relys on economic output from it's coffee sector means the consequences of climate change in Ethiopia could be dire.
A joint project between Royal Botantic Gardens at Kew in London and Ethiopia's Environment and Coffee Forest Forum have fairly recently concluded a project aimed at building climate resilience within Ethiopia's coffee industry.
You can read more about the project and its outcomes on Kew's website, but I've listed some of the core messages from the project below.
The climate of Africa and Ethiopia has changed and will continue to change throughout this century. Ethiopia has experienced an increase in temperature of around 0.3 degrees celsius per decade, impacting on coffee production.

Coffee growing in Ethiopia has already been negatively influenced by deforestation. Growing coffee in Ethiopia relies on good forest cover - it provides good conditions for cultivation, increases humidity and preserves soil moisture.

Migration to new areas suitable for coffee growing will be key to resilience in the sector as the climate changes. Many areas that are suitable for coffee growing in the present day will become less suitable in the future, and in some cases unsuitable. Conversely, substantial areas that were previously unsuitable for coffee farming will become suitable.
---
What I'm drinking this week
It would've been most appropriate to have been drinking an Ethiopian coffee to conicide with this Ethiopia special, alas, I haven't been. I've mainly been drinking Origin's Resolute espresso - a coffee I like so much I have it on subscription.
Origin's roastery is based in Helston, Cornwall. This is a place I spent a lot of time in while on summer holidays in Cornwall as a child. So it gets extra points for that and also for its delightful packaging.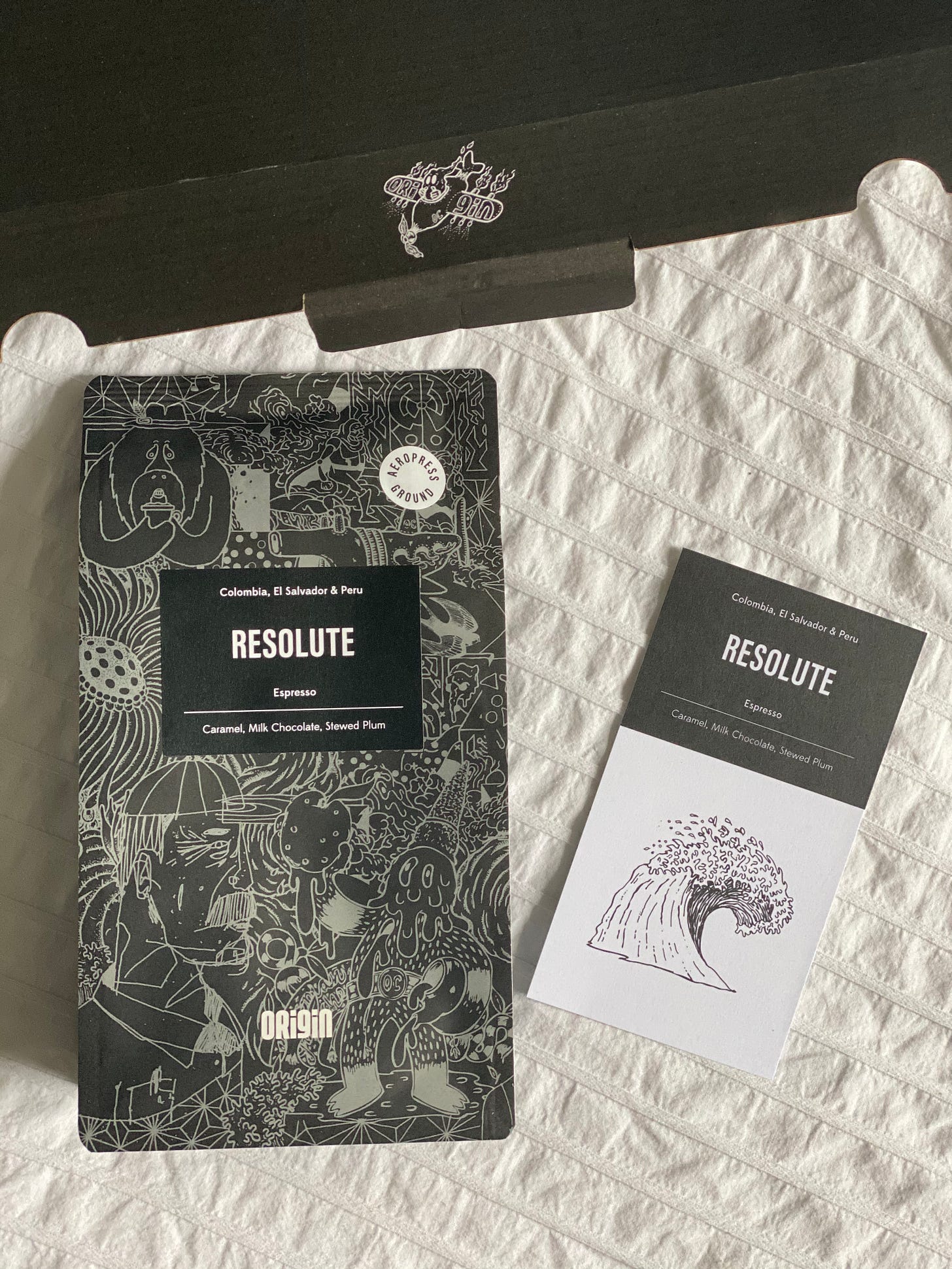 ---
That's all for this week. There's no 'Fourth Quarter' section this time as I decided this edition was already packed out with words. Thanks again for reading and for the comments and shares last week. The subscriber numbers are ticking up slowly and I'm genuinely grateful for the interest! See you next Sunday.