#004: What are you listening to while you sip?
Coffee in music, music for coffee - the two are intrinsically linked
I hope you had a great weekend. As you can see, I'm still failing in sending this out to coincide with your Sunday morning coffee. There was just too much live sport on this weekend for me to get this over the line any earlier - apols. I'll try and be better next time.
I've come to the conclusion that I can write a more in depth case study, like the one about Ethiopia last week, every couple of weeks. This means that every other week, I will write about something that is slightly less time intensive, but hopefully still interesting! Let me know if not.
On this basis, I've been thinking about the link between coffee and music this week.
---
Coffee and music - why it matters
I've tried to brainstorm some of the ways in which coffee and music are connected and I've come up two overarching themes:
Music played in coffee shops

Music with coffee in it
Music played in coffee shops
This is the most interesting element of coffee and music to me because it's become it's own sub genre. Coffee shop music. Spotify is littered with playlists named 'coffee shop vibes', which begs the question: what makes music 'a coffee shop vibe'?
So it seems this very much depends on the coffee shop. I think in the most classic sense of the 'coffee shop music' playlist, it refers to the kind of thing you would hear in a Starbucks or Costa Coffee - i.e. the most inoffensive, bumbling beats you can find. It's role is to provide a backdrop for conversation without imposing, it's kept at a consistent volume and in the case of the chain coffee shops, is often centrally controlled. I feel for the staff in these cases because it must not take long for them to grow sick of the same tepid songs, day after day. The same goes for Christmas time, when the usual playlists everywhere are replaced by Shakin' Stevens et al.
Things are obviously a little different at independent coffee shops, where music is often streamed from Spotify and played out of a speaker via an iPad. The staff have control. This works where the staff match the general background and demographic of the clientele, who can tap their feet as they line up to order and enjoy the music as they drink coffee with a friend. Everyone's happy. It's not so fun when the part-time barista, part-time personal trainer is working and maintains the same playlist in the coffee shop as he broadcasts in the gym. It's hectic. I only condone a hectic vibe if it's the Gipsy Kings playing.
Generally speaking though, across chains and independents, the coffee shop playlist has a changing importance. Look around in any coffee spot in 2020 and you'll see rafts of people using the space as a second office, wearing headphones and choosing their own vibe. If you're working on something, you might choose the same 'focus' playlist you use when sat at your desk at home. But if the barista on DJ duties is particularly great, you can be tempted to take the headphones off. One of my favourite cafe's in London, Finch, are always on form. Their playlist finds the perfect balance, in my opinion, between some golden oldies and plenty of Yo La Tenga. I can quite happily sit there and work without headphones.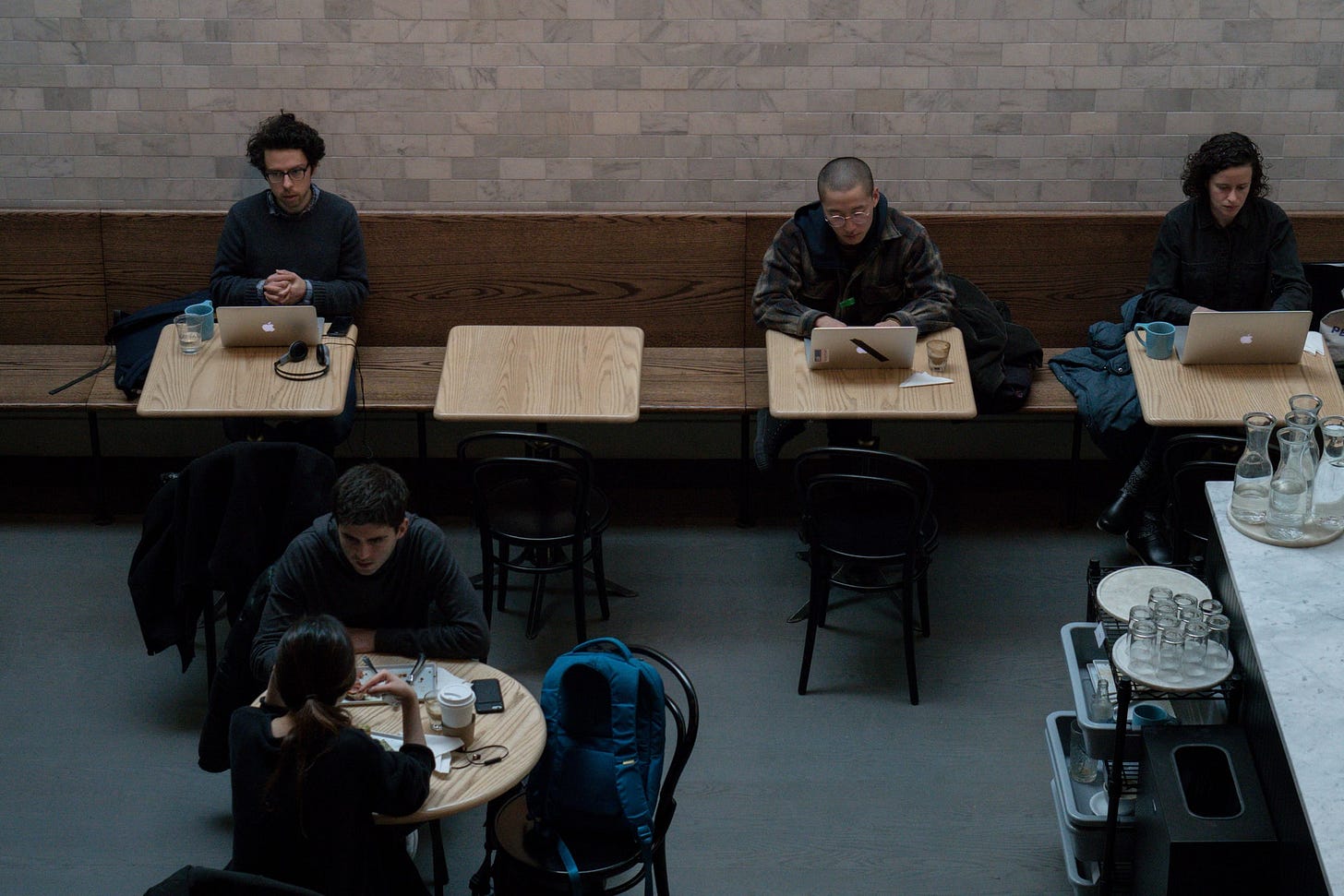 Music with coffee in it
From a completely different perspective, I wanted to look at how coffee is referenced within music. I've picked a few songs below that either have coffee in the title, or a lyric about coffee.
Conversation 16 by The National
This song was my first thought when I thought coffee and music. Not because the song is about coffee, but it includes a short lyric ('Live on coffee and flowers, try not to wonder what the weather will be') about coffee. It is also the title of a great podcast, Coffee and Flowers, in which the hosts dissect the The National's lyrics. They haven't got around to dissecting this song yet, but I suspect they will comment on how it presents coffee as a coping mechanism and a distraction from something else.
Coffee and TV by Blur
The idea of coffee as a coping mechanism is also seen here. The track was on Blur's 1999 album, 13, which was in turn heavily influenced, apparently, by Damon Albarn's break up with a long term girlfriend. However, this particular track was written by the band's guitarist, Graham Coxon, who had stuggled with alcoholism and regular coffees and hours sat in front of the TV helped him to cope.
One More Cup of Coffee by Bob Dylan
I wasn't familiar with this song before Googling around to write this newsletter, but there are some suggestions that Dylan, like Blur's Albarn, was struggling with some heartbreak at the time of writing this song and although this is completely unconfirmed, in this song, coffee is the barrier between staying and going.
Cup of Coffee by Johnny Cash
On a slightly more upbeat note, I think this is my favourite song about coffee. Taken from an album full of novelty songs, Cup of Coffee is essentially a ramble through a cup of coffee with a friend. At first, Cash turns down some whiskey, though it sounds like he's already had several and repeatedly exclaims that he's "just dropped in for a cup of coffee". There's also a fair amount of yodeling which is always great, but also the imagery of the song. It's a fun and warm song that really conjures up an image of an old friend dropping in for coffee. That said, it's hectic to a degree that means it's never being played in any coffee shop.
All in all, I haven't come across many songs that reference coffee in relation to the opportunity for connection that it offers for so many. A coffee in a coffee shop offers a space for connection in a way that a pint in the pub, for example, does not. There's no social obligation to get a second coffee, you can have your coffee and have your chat and have a nice time. No further questions asked. You just have to hope that your barista does their part - making good coffee and choosing a good playlist to soundtrack your coffee date. There are many more songs that portray sitting down for a coffee as a distraction or coping mechanism.
What are you listening to at the moment? Would it suit your favourite coffee shop?
---
What I'm drinking
I've been mainly finishing off the Origin Coffee I included in last week's newsletter throughout the last week and so this week I want to use this section to show my gratitude to Standart Magazine for including a cup's worth of coffee to try with every issue. I was an issue behind and so both arrived this weekend, complete with two samples - from Ethiopia via Onyx Coffee Lab and some more beans from Origin for me to try, from Nicaragua. I'll report back!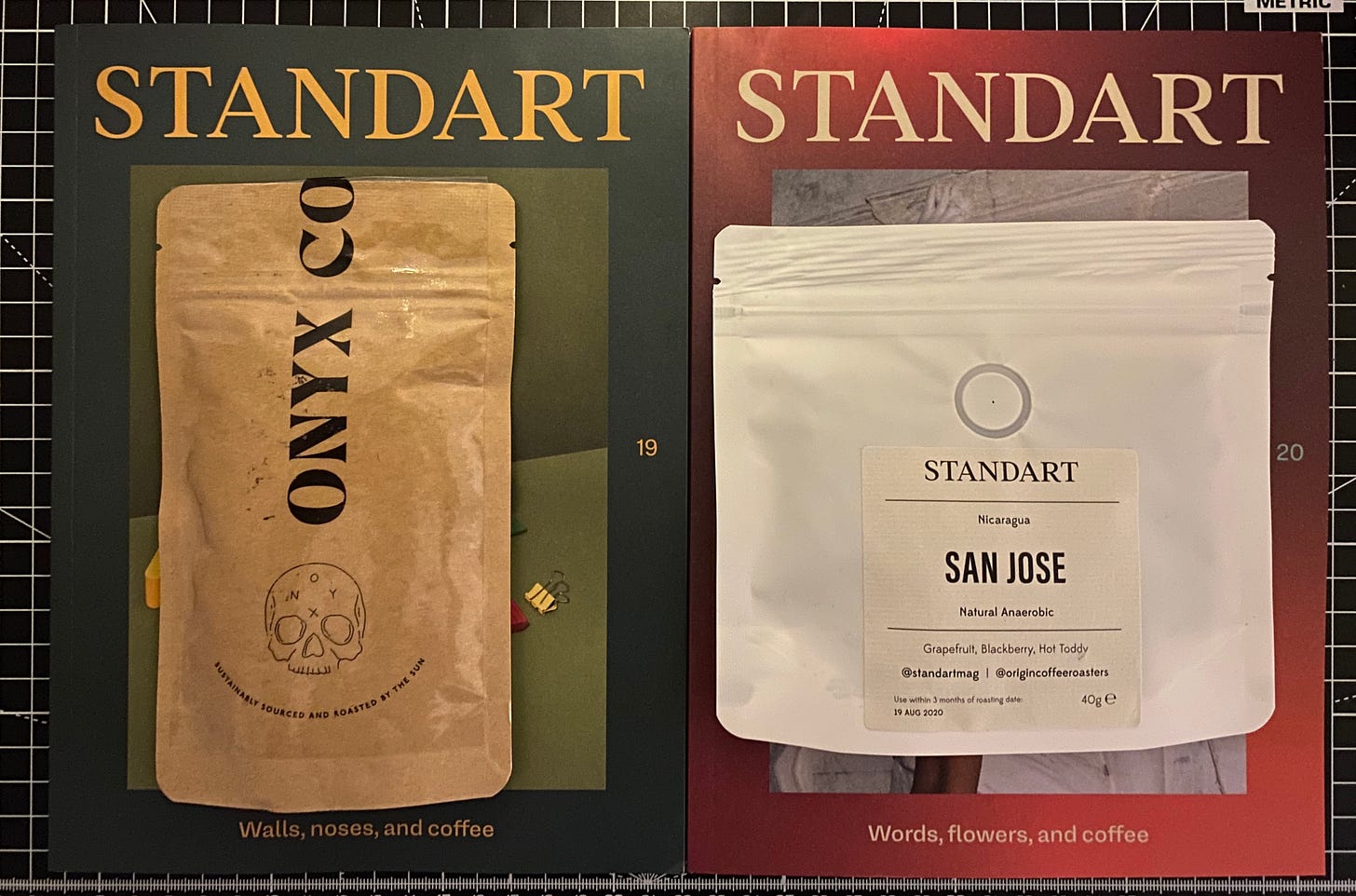 ---
That's all for this week's Three Quarters Coffee. Next week, I'll be publishing my second case study on Zimbabwe's coffee sector. In the meantime, feel free to give us a follow on Instagram or leave a comment about this edition. Even if you thought it was a complete waste of your time, let me know! I can take it. Buttons below.